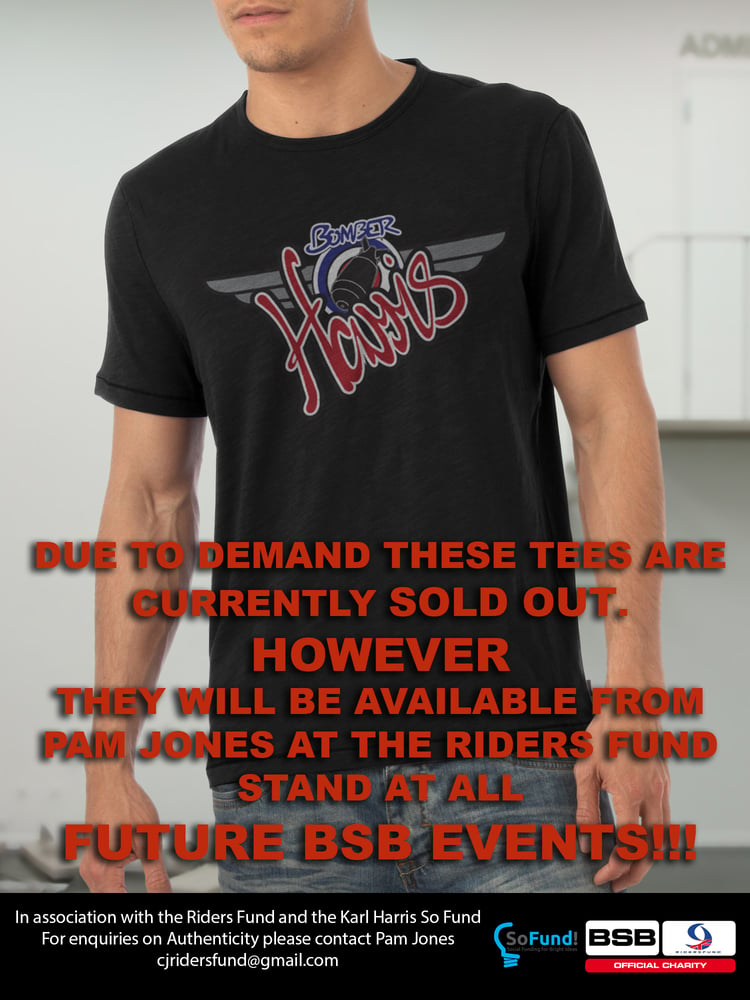 Karl Harris Charity Tee
£

16.75


Sold Out
---
These Tees were designed between Karl Harris and myself and we both planned on entering a joint venture to have these at race meetings to help fund the seasons expenses over the course of 2014.
We set them up and designed a quality packaged product that would last and look good throughout the paddock, with his new logo emblazoned on the front, as Karl wanted.
I have not deviated from what Karl and myself discussed, or indeed changed any element of what he wanted, so you are getting a proper Karl Harris product.
Knowing how keen he was to have these on sale, i have decided to put these up for pre-order, with all profits now going to his children via the official BSB Charity, Riders Fund.
So How does this work?
Well firstly we need to sell 'X' Amount to allow them to be produced, so get sharing this link and get as many people on board as you can.
How much goes to the charity?
This is how 100 Tees Breaks down in terms of cost, however the more Tees that are produced the cheaper they become to manufacture and the more money that goes to the Kids.
T'Shirt Plus Printing = £7.26
Swingtags = £0.45p
String = £0.13p
Clear Bag = £0.18p
Mailing Bag = £0.11p
Paypal Cost = £0.82p
Delivery = £2.80
Total Production = £11.75
Total cost of Tee = £16.75
Money to Charity = £5.00
When Can i Expect my Goods?
Well that depends on how many, and how quickly we sell them, if i hold back and place larger orders the Tees become cheaper and the charity gets more money, so please be patient as it could take up to six weeks before these are delivered.
Where does my Money go?
We are in contact with the Harris Family and alongside the Karl Harris SoFund and the BSB Riders Fund Charity we will ensure that ALL Profits go towards securing Karl's young children's future.
SoFund Family Statement . . .
'For many of you Karl was an athlete but he also has 2 beautiful children called Carl (Junior) who is 7 and Ella Mae who is 5 years old. For their Dad to be taken at such a young age means we would like to financially secure their future, when they will need some help to get started in their own lives, when they are old enough to do so.

This is an incredibly difficult time for us all but for anyone who knew or enjoyed watching Karl's achievements we would appreciate any gesture you could make to help us provide some security for the future of Carl and Ella'.
Size Guide
Size
Chest (to fit) S - 34/36", M - 38/40", L - 42/44", XL - 46/48", 2XL - 50/52", *3XL - 54/56" 3XL
---